KEEP THE CAT, DITCH THE SMELL.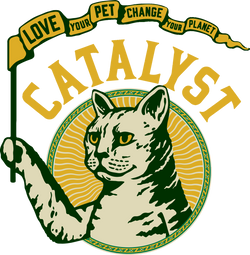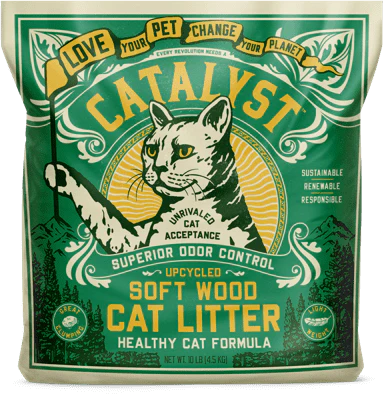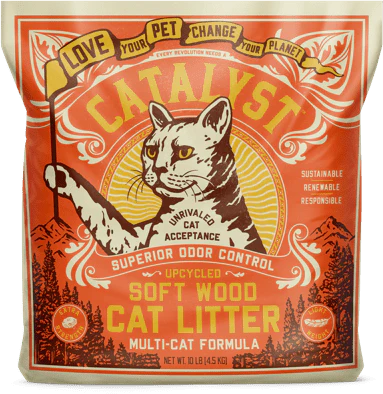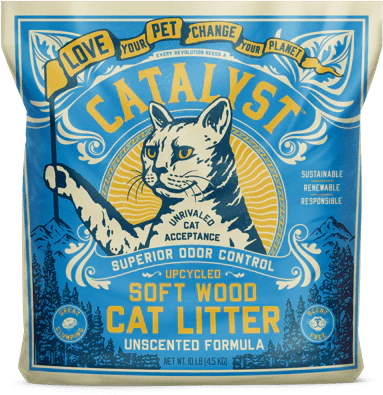 Inspired by Nature
Catalyst shines in all the ways a great litter should so you can give your cat the best while doing your best for the planet .

Strip mining: not sustainable
Strong synthetic perfumes
Heavy weight
Nasty airborne dust plumes
Unrivaled cat acceptance
Superior, natural odor-blocking
Gentle, positive scent
Strong clumping
Lightweight
Sustainable and renewable
The highest performing, sustainable cat litter available.
Catalyst is the only cat litter engineered from upcycled soft wood fiber to offer performance and peace of mind. It leads in Superior Odor Control, Unrivaled Cat Acceptance, Great Clumping, Low Dust and Light Weight
Know more
HIGH FIVE
PAW RATING
AROUND THE LITTER WORLD
TRY CATALYST
"All four of our cats, ranging in age from 1 to 15, gave Catalyst paws-up approval. We introduced Catalyst properly, slowly mixing it in with existing litter brand. I like that Catalyst is a clean, environmentally friendly litter that did not kick up dust and came in lightweight bags. Just like us, our cats deserve clean bathrooms. Catalyst is a good litter option." (Arden is not a paid spokesperson nor received monetary compensation for this testimonial.)
"I've tried every type of clay litter under the sun and have found NOTHING to help with the odor of having four cats. Catalyst is a dream come true. The pine smell is amazing and the odor control is unmatched. Not to mention it is super light weight and clumps better than any clay litter I ever used. It also doesn't track like regular clay litter. 10/10 would recommend. I'm not going back!"
"Phenomenal quality! Great long lasting smell! Traps and drys urine and shields fresh poop from any sorta smell. So easy to scoop after duty and salute you guys."
"I love the way Catalyst litter works and keeps my house not smelling like a litter box. I have 4 cats and this litter really works. It's better for the environment and it's much more pleasant to deal with."
"No smell what so ever...no dust..no mess!!! Clumps like a dream and so east to scoop! Thank you again for everything and im shopping with you guys from now on!! Fast delivery!!! And my water bottle loves the new sticker!!!"
"I've had cats for over 20 years. I've always used clay litter but have recently become allergic to dust. So I began to try different alternatives the pet store has to offer such as corn, wheat and wood. All have let me down in different ways from smell to lack of clumping. But this cat litter is top notch. Clumps beautifully. You use a lot less then clay and it lasts 2-3 weeks compared to adding the clay litter twice a week. My cats love it and used it immediately."
"This is the best cat litter ever conceived. All natural, no messy dust or tracks from paws and the packaging is very cool!"
"Like this much better than our clay based litter. Smells kind of like woodchips. Cats are happy."
"Awesome product, can't believe it took so long for someone to come up with such a planet friendly solution. My cat loves it, its clean, no odor, easy to clean up. I love it."