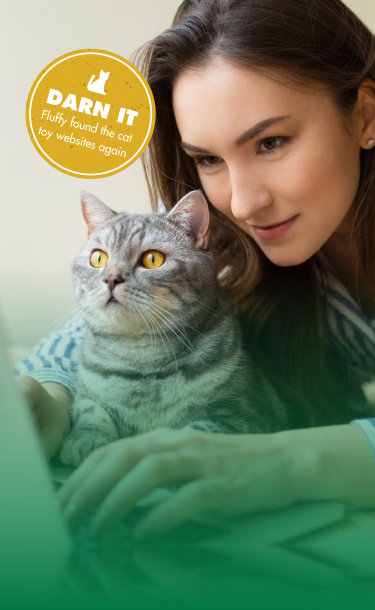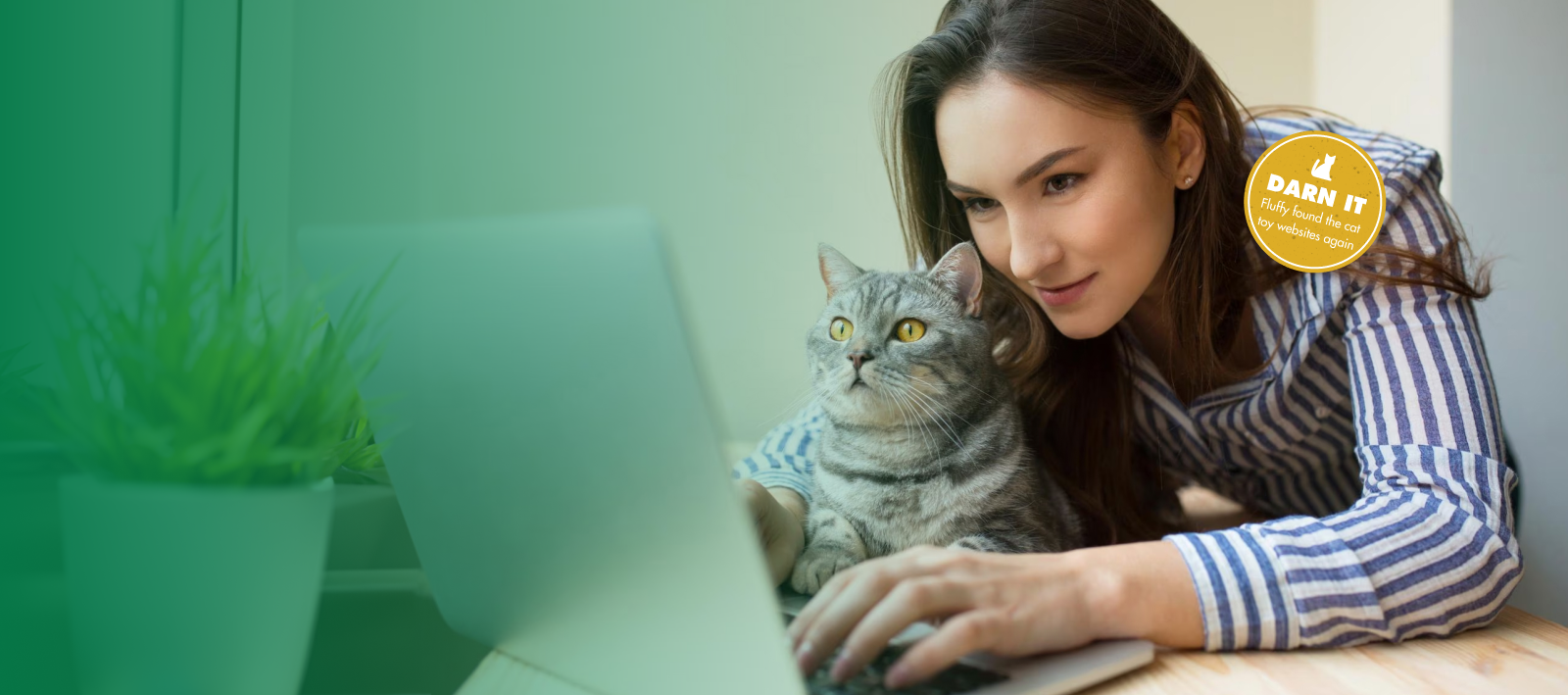 step by step
Instructions for
Modifying Your
Subscription
How to change your subscription using the online portal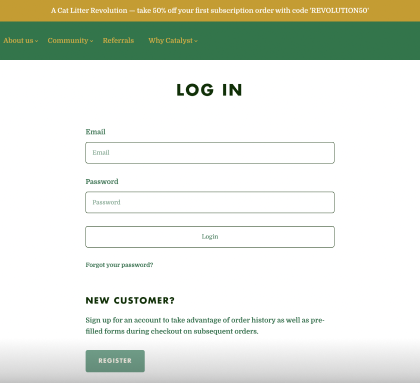 01
Log into your portal

here
Click
manage subscriptions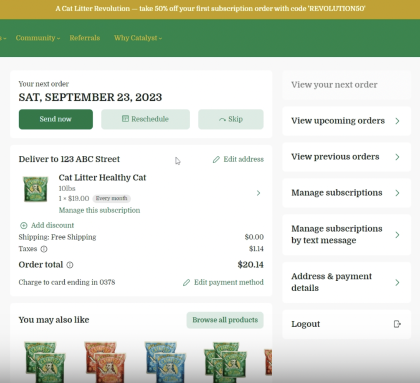 02
Click on "Manage Subscriptions" on the right toolbar, below "View Previous Orders" and above
"Manage Subscriptions by Text Message"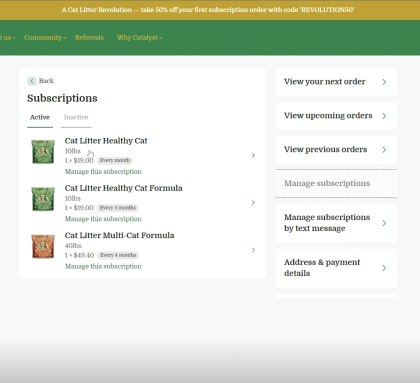 03
Choose the subscription you want to change
04
Under size, change to the size you want, and click on "Delivery every 1 month" to change to a "Delivery every 4 months" or whatever time interval you want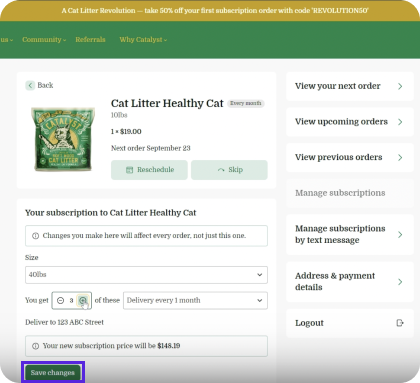 05
Don't forget to click "Save Changes"! And voila, you're done! Easy as pie.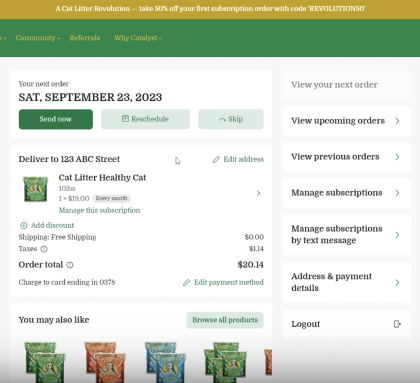 06
Still confused? Watch the full video for a step by step walkthrough.
How to change your subscription
using SMS/Text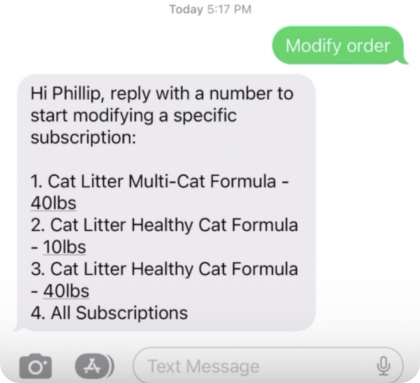 01
If you are already enrolled in the SMS Program, text
"Modify order"
to 844-939-0595, or find one of our latest texts to you and reply with
"Modify order"
. If you haven't enrolled in the program yet,
click here to enroll.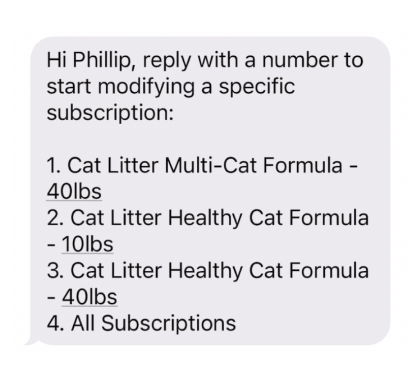 02
If you have more than one subscription, type the number that corresponds to the subscription you want to change. If you have only one active subscription, skip to Step 3.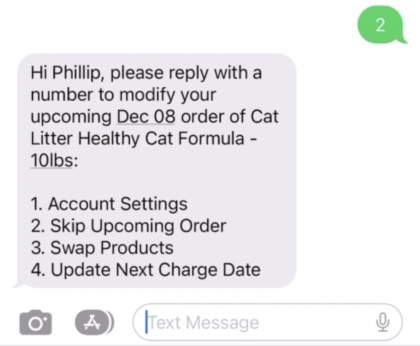 03
You should see a list that says:

1. Account Settings

2. Skip Upcoming Order

3. Swap Products

4. Update Next Charge Date

Type 1, for Account Settings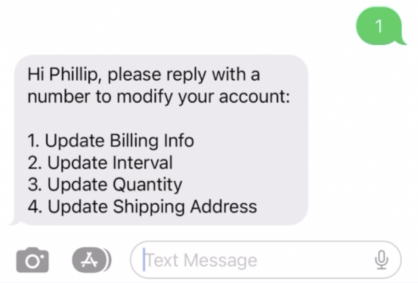 04
You will see a menu with:

1. Update Billing Info

2. Update Interval

3. Update Quantity

4. Update Shipping Address

Type 2 to Update Interval (the order doesn't matter, so if you want, you can update your quantity first).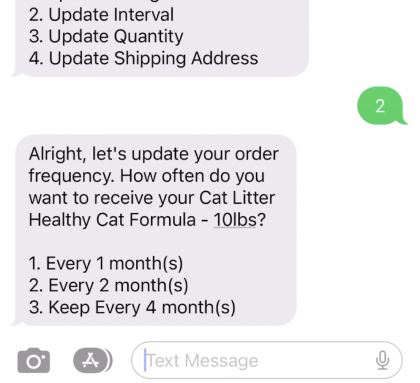 05
You will see a menu with the intervals available. If I'm switching from a 10lb every month to a 40lb subscription every four months, I might see a menu
saying:
Keep Every 1 month(s)
Every 2 month(s)
Every 4 month(s)
I'll type in 3, for every 4 months.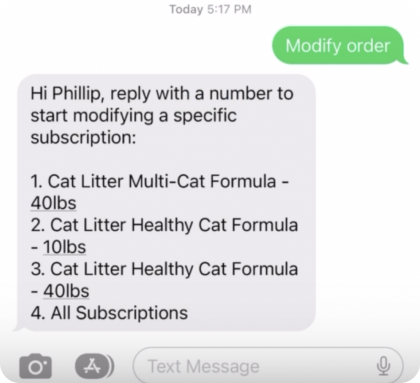 06
Once that is done, my interval is switched, but I still need to switch my quantity. I'll text "Modify Order" again, bringing me back to step 4. This time, I will type 3 for update quantity, and hit send.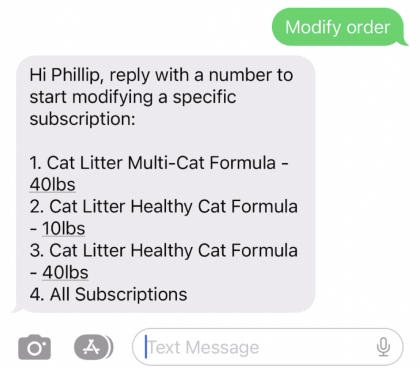 07
I'll see a list from 1 to 5 of quantities from 10-50lbs. For the 40lb subscription, I'll type 4. If you want a different quantity, just type it!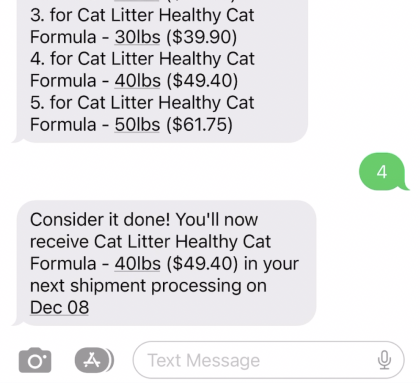 08
You're done! The whole process is done in less than a minute.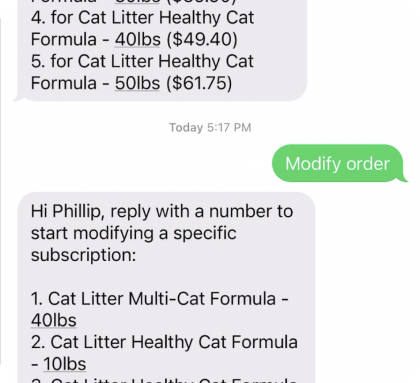 09
Still confused? Watch a step by step walkthrough as I change my subscription via SMS!
Let's Be Friends
Get tips, spotlights, and upcoming offers and deals!