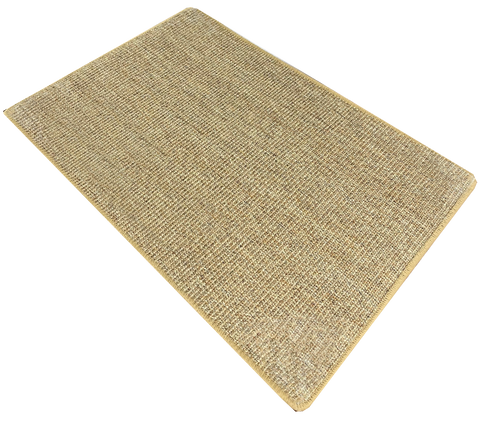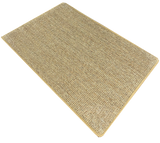 Soft Wood Cat Litter
Catalyst All-Natural Cat Litter Mat
Product Description
Introducing our Catalyst Cat Litter Mat - a perfect blend of nature and science. Crafted to pair perfectly with our soft wood litter, this 24" x 36" mat (roughly the size of a small doorway rug or a large movie poster) is woven from tan sisal fibers. Sisal is a durable and biodegradable natural fiber derived from the Agave sisalana plant, known for its strength and resilience.
Its natural texture provides a comfortable path for your feline, capturing stray litter bits while they tread, keeping your home cleaner. What's more? This durable mat is machine washable, ensuring prolonged freshness with minimal effort.
Why choose our Cat Litter Mat?

Nature Inspired Design: We hold a deep appreciation for natural elements. Just like our renowned Catalyst soft wood litter, this mat is created to offer an authentic, natural experience for your cat.

Extensively Tested for Superior Performance: Our dedicated cat lab evaluated multiple mat designs, and our sisal mat emerged as the unparalleled winner.

Perfect Harmony with Wood Fibers: Our natural mat effortlessly teams up with wood fibers. When paired with our lightweight Catalyst litter, you get the optimal litter experience.

Blend of Comfort & Cleanliness: The soothing texture is a luxury for your cat's delicate paws, while its design prevents litter scatter, maintaining the tidiness of your home.

Promoting a Safe Environment: A clean litter area is essential for health. Guard your home and your beloved cat from potential dirt and bacteria.

Durable Elegance: Our litter mat not only boasts durability but is also machine washable. Say goodbye to tedious daily cleaning routines.

Elevate Your Litter Box Ambiance: Our mat doesn't just serve a purpose—it beautifies the space. Elevate the look of your cat's litter area effortlessly.
Best Cat Litter Mat For Sale
Experience the Catalyst Difference
Catalyst Pet is synonymous with top-tier quality. Our cat litter mat promises unparalleled comfort for your pet and a pristine environment for your home.
Miawed by cats around the world
The highest performing, sustainable cat litter available.
LOVE YOUR PET. CHANGE THE PLANET
We're on a mission to overthrow the litter aisle. We're tired of environmentally damaging products that also don't live up to the standards we should expect. Whether it be re-using an old door or experimenting with an upcycled ingredient, we're continuously living our commitment to create better products for our pets, our homes and the planet.
4x more efficient = save more per use!
Not only is Catalyst litter 4 times more absorbent than other leading litter brands, it also controls odor better, is lighter to carry, and doesn't have the nasty clay airborne dust that is typical of other brands. Give it a try!