Shelter/Rescue
Rescue Spotlight: Milo's Sanctuary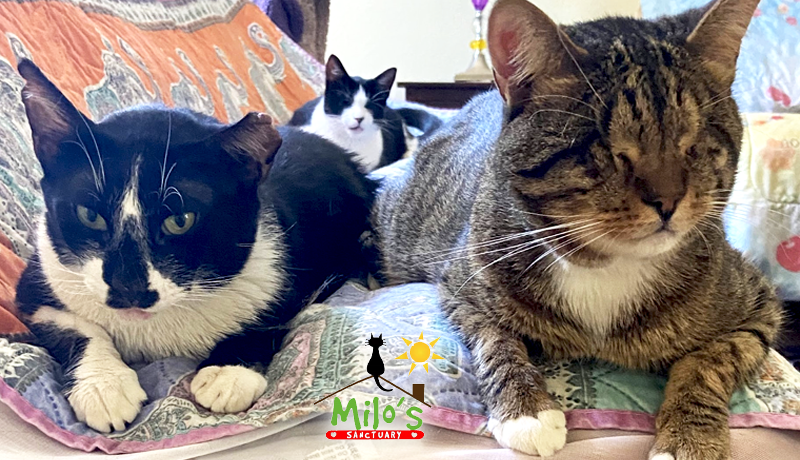 It started as a love story, and it remains one to this day. 
Michele Hoffman started rescuing special needs cats nearly 20 years ago – the official celebratory milestone will come in 2024 – saving cats that others considered "unadoptable." 
Michele was at a shelter and met a blind cat who was set to be euthanized. When asked if she would consider caring for the cat instead, "I said yes without even thinking," Michele shares. It happened to be Feb. 14, earning the cat the name Valentine. Michele never looked back, forming what is now Milo's Sanctuary, one of few rescues that focus on this underserved feline population. Michele continues to do this important work and share her love and knowledge to promote adoptions of special needs and older cats and care for the ones that are not adoptable. 
Milo's Sanctuary, located in Antelope Valley, CA, is now one of the oldest and largest cat rescues worldwide, focusing on finding homes for these cats, which were previously overlooked. Early in this endeavor, Michele won a Chase nonprofit contest voted on by cardholders that provided needed seed money for her then startup to the tune of $20,000. The Sanctuary has expanded in two decades, now housing up to 100 rescue cats at any one time. 
When looking back on Michele's story, the creation of Milo's Sanctuary seems inevitable. As a child, Michele rescued all kinds of animals, so it was no surprise that she started taking rescue cats into her small North Hollywood apartment as an adult, after her experience with Valentine made her realize how many special needs cats existed and needed her help. Investing their life savings, she and her husband found a larger, more suitable location for the rescue and the program grew exponentially. 
With legal and business background, Michele had a solid foundation on which to build the rescue, but she wanted to know more about the medical side. She went back to school, earning a veterinary technician degree. Education remains an important part of the rescue's efforts, and educational videos are in the work pipeline for Milo's, "because at some point, we all become special needs," Michele says.
Michele credits her amazing board of directors and dedicated staff with Milo's success, noting that she loves to mentor young women and has had some incredible ones cross her path in her time at Milo's. 
There are currently six staff members at Milo's, and they are gearing up for an October High Tea event to raise funds for the rescue, monthly costs for which are upwards of $35,000. Donor and partner support are critical to Milo's mission, and there is also a Lifetime Support program for cats that are not adoptable due to age, illness, or prior abuse.
"Everyone deserves a chance at life," Michele shares. There are 70 cats in this lifetime program right now, and previously adopted cats are always welcome back if their owners can no longer care for them as well.
But "don't pity the kitty," says Michele. "These cats don't know they have special needs, and we've seen such an attitude change with humans towards these animals when they realize how fulfilling it is to adopt these kitties."
Milo's also ensures the animals in their care have the products needed to give them the best experience possible. Catalyst Pet partners with the Sanctuary, providing, among other products, its sustainable pet litter, which is perfect for cats with special needs. 
"I don't promote anything I don't use in my own home," Michele emphasizes, and she describes Catalyst Pet litter as the "dream litter." Milo's is nearly 100% switched over to Catalyst Pet litter, and her personal home contains 100% Catalyst Pet litter. Catalyst is dust free and zero clay, which is great for cats with respiratory issues. Michele also pointed out the litter's light weight and availability in 10 pound bags, which is manageable for humans with health issues that prevent lifting heavier bags of litter. 
Michele expressed her gratitude for the Catalyst Pet partnership with Milo's, noting that the funds Milo's used to spend on litter can go to the cats, "and that's huge!"
Newer products like a litter mat and scoop were also tested by partners like Milo's with great success, garnering positive comments about function and fashion. "The mat is beautiful, and it blends right in with my home décor," says Michele. 
"It's clear that so much consideration goes into the products, and that's incredible," says Michele. "Catalyst thought of everything for the cats, the environment, and the humans. Their products are amazing." 
We couldn't agree more. 
More on Blog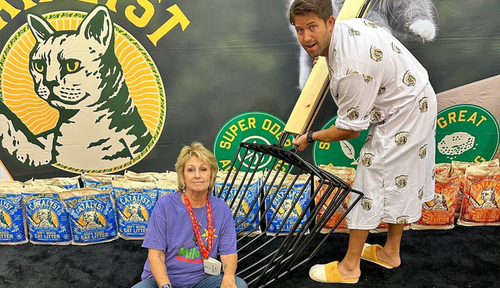 The love is in the litter when you believe in your product and your partners – and we do. Catalyst Pet recently donated three thousand pounds of litter to three of our rescue partners: Paw Partners Unleashed, Milo's Sanctuary, and...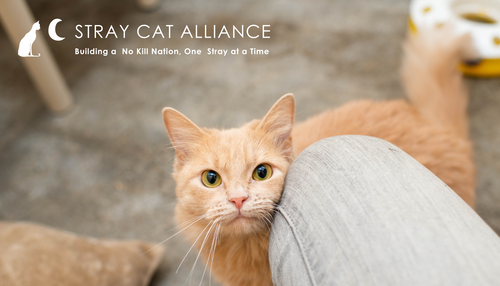 In the City of Los Angeles, where the human population reaches nearly 4 million, it's estimated that there are somewhere between 1 to 3 million feral cats. The need for these cats to not only be humanely controlled but also...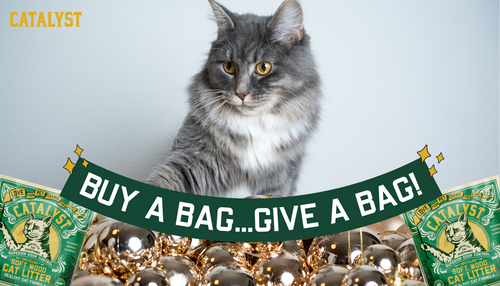 "We believe sustainability is about creating change for good," says Levine. "It's about supporting our community and lending a hand wherever we can. That's why we started this program and are working hard to continue to grow it."