Eco-Friendly
Catalyst Pet Celebrates Earth Day Every Day
On Friday, April 22, the world celebrated Earth Day. While we at Catalyst love this holiday (in fact, it's one of our very favorites), we believe Earth Day should be celebrated every day.
"Our motto is right on every package: Love your pet, change your planet," says Jonah Levine, the process and product engineer at Catalyst.
So, how do we bring our mission to life? Well, there are several ways.
First off, Catalyst is a completely sustainable, high-performance cat litter made with upcycled soft wood. Catalyst is biodegradable and does not require precious resources for its manufacture. In fact, the upcycled soft wood fiber used to make the litter is collected from wood processing facilities that would otherwise send it to a landfill. Because one pound of Catalyst does the work of four pounds of clumping clay litter, it also reduces pollution and carbon emissions that result from production and transportation. Since inception, Catalyst Pet has displaced nearly four million pounds of clay. 
The pet industry is responsible for around 300 million pounds of plastic waste per year in the U.S., according to an estimate from the Pet Sustainability Coalition (PSC), a respected non-profit organization dedicated to creating a more sustainable pet industry.
The nonprofit projects that at least 99% of all pet food packaging in the U.S. isn't recycled. As a company that firmly believes even small businesses can make a big difference in improving the planet, Catalyst Pet entered a partnership with rePurpose Global, the world's first Plastic Credit Platform helping people and companies finance the removal and recycling of ocean-bound plastic waste. By making this commitment, every Catalyst purchase carries a Net Zero Plastic Footprint. 
Most recently, Catalyst Pet received its accreditation from the PSC, which enables pet companies to act on their sustainability claims and make their impact come to life.
"By getting accredited, we're able to show our customers, retailers, and pet community at large how we're protecting our planet while offering a high-performance product at the same time," Levine says. "You don't have to sacrifice one for the other."
To become accredited, companies must complete a comprehensive third-party sustainability assessment, complete a formal verification of their assessment, and show annual improvement.
"The process helped us accurately benchmark our impact, revealing how we as a company are doing and what we can work on to do better," says Levine. 
Celebrate Earth Day every day with Catalyst Pet and help us overthrow the clay litter aisle!
More on Blog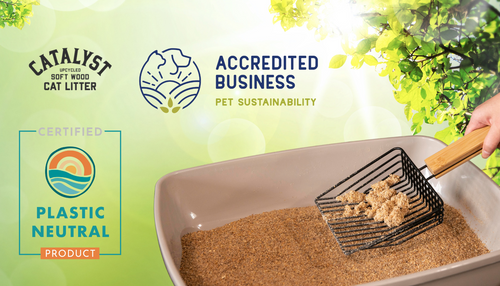 Catalyst Pet has helped displace 34 million pounds of clay since its inception.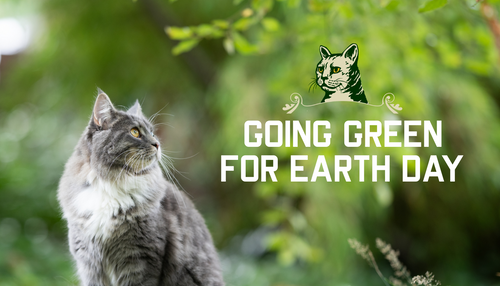 Earth Day inspiring you to make sustainable changes for your pet? Here are a few strategies that can help get you started!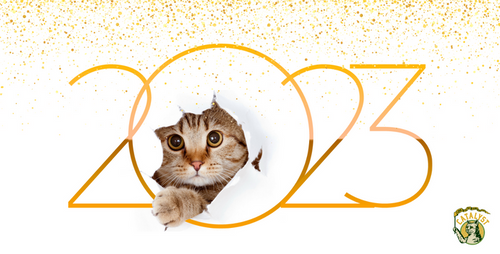 Catalyst Pet is the ideal litter for cat owners who want to save money, live a more environmentally friendly lifestyle, and be healthier in the new year